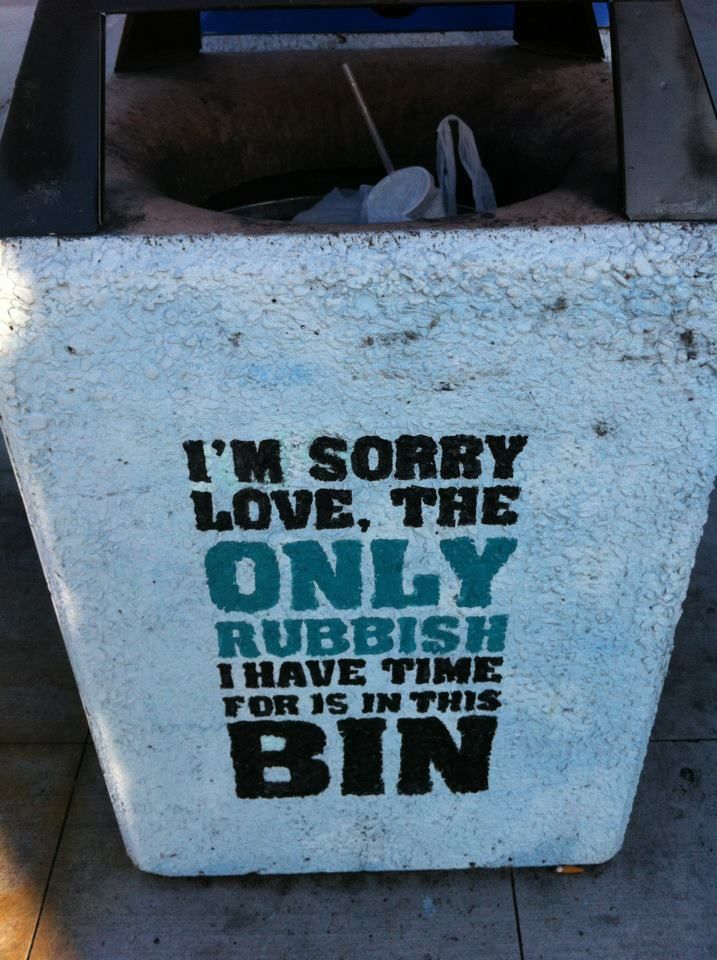 an excellent motto, thanks to my ex-neighborhood's trash can
When the New Year comes around, I prefer to reflect on the previous year rather than make a million unattainable goals for the year to come (because I've tried that before).
I think the New Year is exciting. It's a time to make some changes in yourself, most importantly concentrating on what's inside. Sure, it's fantastic if you lose those five extra pounds and make it to the gym to kick your own ass everyday, but I think a lot of people (including myself) forget about bettering your character. Doing good in this world and being an honest and decent person, in my opinion, is highly underrated and something we should all strive for.
So what's my point? Challenge yourself. Yes; make that promise to workout more. Eat healthier. But don't forget about your character. It will always get your far in life. Volunteer once in a while. Send snail mail to an old friend. Do random acts of kindness. Buy that sweet homeless man near your work an occasional burger; because it'll make you a kinder and happier person and maybe even make someone else's day. And you'll never regret that.
Though I absolutely, 100% know that I live a blessed and exceptional life, this year was hard for me. I struggled with my emotions, letting people go, unemployment, anxiety, stress... the list goes on. So in the spirit of reflecting, I made a list of the things I learned this year. Despite how tough 2012 was, I learned a ton. And you know what? That counts for more than I once thought.
Happy New Year, everyone!
Expect the unexpected.
No job will ever be perfect, but don't settle for a job that makes you miserable
or doesn't make sense for your path.
Patience really is a virtue.
Sometimes, you just need a few too many beers... in the dive-iest of dive bars... with your best friend.
That being said, some nights Speedway Stout and 90's hip hop are the only option.
It's okay to go on dates.
The Bar Method is hard. And I like it.
If someone has hurt you in the past, they will likely hurt you again.
Though I believe in second (and often third and fourth) chances, you should
always keep your guard up.
There is almost always an exception to every rule.
Be spontaneous. Go camping and travel... see the world!
Food will always be a huge part of my life, but I don't have to overdo it. Portion. Control.
Say yes more. Go on that date you think will be awkward. Who knows, it just might be great.
I'm officially too old to drink Long Island Iced Teas.
Good guys might be few and far between but they do exist. Don't settle.
Stop prejudging. Just stop. It's ugly.
My family will always be reliable and supportive. Thank you!
One pair of navy and white polka dotted shorts is all you need.
Seeing Dr. Dre at Coachella really was one of the highlights of my life thus far.