Since we all know
my solo photo
attempts are well below average, I asked one of my favorite bloggers, Kelsey, from
Time Stand Still
to take over my blog while I'm home visiting the family in the Bay Area (food, bar and shopping suggestions in the city are greatly appreciated) because her outfit posts kinda rule. And she could definitely be a model, don't ya think? Read on to find out Kelsey's nine reasons why puffy vests are the best this fall and be sure to check out her awesome blog!
Hi Beauty and the Feast readers! My name is Kelsey and I blog over at
Time Stand Still
. I'm so happy to be here today to ramble about one of my favorite fall clothing items.
Although the male species may never understand, vests are where it's at. If you were to ask me what my favorite item of fall or winter clothing is it would take me nanoseconds to respond with,"PUFFY VESTS!" Boys might be thinking "why is that girl wearing an item of clothing that makes her look like the Michelin Man?" but I find the little man entertaining, so this only adds to my vest obsession.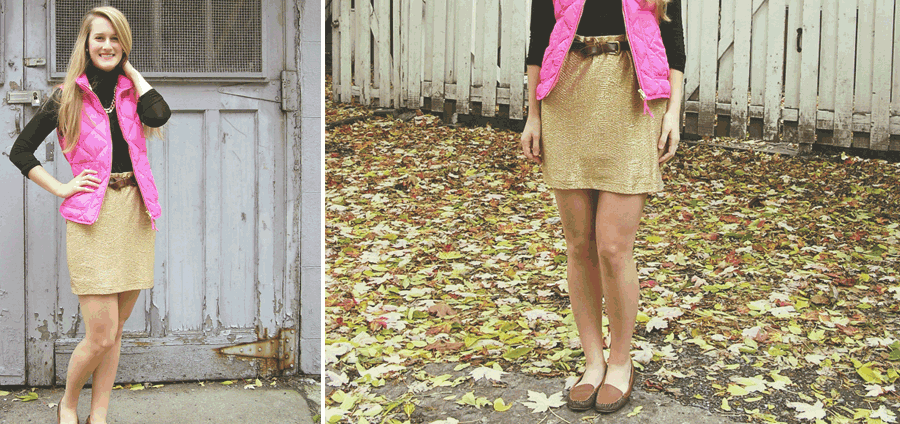 Without further adieu here are some reasons why you should invest (pun intended) in one:
1. Your arms aren't constricted so you can get a little bit athletic… if you must. 2. You can hide cheap snacks in it when you go to the movies.
3. In a neutral color, it will match just about anything.
4. You can wear the really snazzy kind from day to night.
5. It will protect your vital organs from the cold (sorry elbows, you're on your own).
6. If you were for some reason wearing a bulletproof vest, it would allow you to stay incognito while doing so.
7. You can wear it in the fall, winter AND spring.
8. Martha Stewart wears them and if she isn't a style icon then I don't know who is! ;)
9. Guys really, really dig them. You'll probably get five marriage proposals each time you wear a puffy vest. Especially since the really huge ones look like sleeping bags.
{I hope that you all enjoy this beautiful vest wearing season and that you'll
stop by my blog
and say hello! Thanks again to Allie for having me!}