I had a craving for some craft tacos and since a trip to the city wasn't going to happen, I took matters into my own hands. Based on a
recipe from Bobby Flay
, I came up with these feastly cilantro lime chicken tacos. Now, I don't like to toot my own horn but these tacos were definitely brag-worthy. Times 100. A little labor intensive but absolutely worth it in the end.
Ingredients
Chicken, two limes, olive oil, cilantro, six tomatillos, two serrano peppers,
one large yellow onion (diced), corn tortillas, cotija cheese, pepper jack cheese, avocado, garlic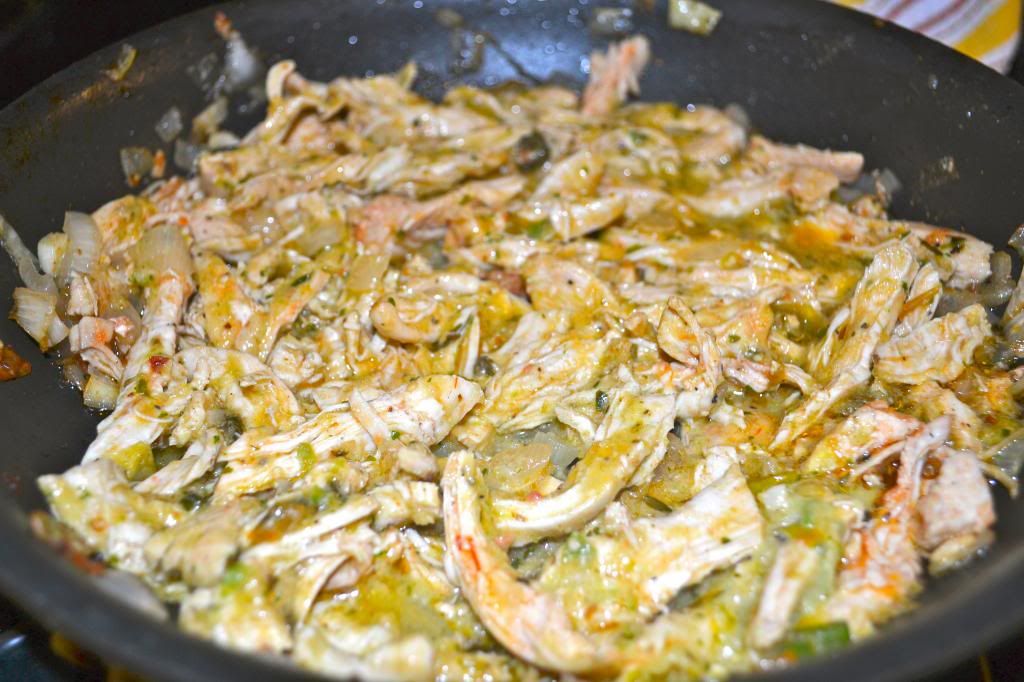 First, marinate chicken in lime juice, olive oil, salt and pepper and cilantro. In the meantime, shuck and wash tomatillos, then roast in the oven on 400 degrees until blackened, turning periodically to blacken all sides. In a food processor, mix tomatillos, two cloves of garlic, half an onion, one serrano pepper and the juice of one lime until a salsa forms. Transfer tomatillo into a medium sauce pan. Add marinated chicken and one-fourth of the remaining onions and cook on medium heat. Once thoroughly cooked, shred chicken and simmer in sauce on low heat until ready to serve.
In a small bowl, mash avocado, lime juice to taste, salt and pepper, the remaining onions and a bit of cilantro to make a guacamole mixture.
Next, take your corn tortillas (I love Trader Joe's Corn/Wheat Tortillas) and sprinkle a small amount of pepper jack cheese on them. Broil until cheese melts. Add shredded tomatillo chicken, a bit of guacamole, cotija cheese crumbles and any other ingredients you like (I chose some more serrano peppers and sour cream) and FEAST.